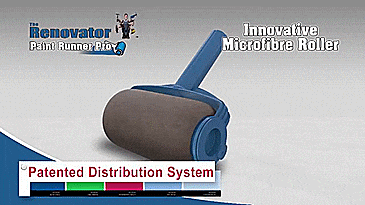 EASY TO USE - The Paint Runner Pro is so simple and easy to use even your kids can help give a professional paint job to nearly any surface.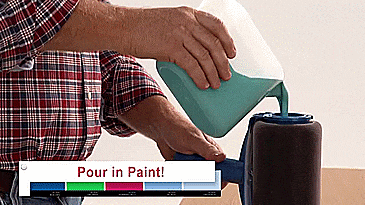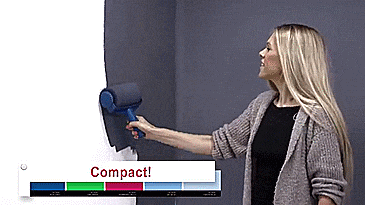 CONVENIENT - Use the included Super Fine Flocked Edger, and Corner Cutter to quickly paint those tricky corners, or around switches outlets and door frames. Attach any broom stick or mop handle to extend the roller and paint a ceiling in a fraction of the usual time.
WORKS ON ANY SURFACE - Skip the mess and have fun painting walls, decks, ceilings, and furniture with the whole family. Use indoor and outdoor; Or just cover up scuff marks and stains in seconds. The Paint Roller can transform your entire home and raise its value faster than you ever thought possible. 
ECONOMICAL & TIME SAVER - No prep time. No mess to clean up. Just pour in, snap on the lid and paint. No wasting time bending down often to your paint tray to reload the roller.
WONDERFUL POLES - There are 3 extensible threaded poles, you don't need to climb up and down ladders when painting. You just need to assemble the poles together to reach high places. Just forget the risk of working at heights!
IMPORTANT
For best results, please read the instructions thoroughly before using your Paint Runner and accessories.
1. Always stir paint thoroughly before use.
2. If paint is too thick, mix in a little water to achieve desired consistency.
3. For a quality finish, always apply two coats.
4. Only apply the second coat when the first coat is completely dry.
5. As with all DIY/Decorating activities, always make sure that you take the appropriate safety precautions.
6. If Edger Head is loose, it has not been pushed on to the handle firmly enough.
Do not be afraid to use a little force to secure the Edger Head.
Package Includes:
1 Paint Roller
1 Flocked Edger
1 Easy Pour Jug
1 Corner Pad
1 Resting Tray 
3 Extendable Threaded Poles 
Note: Wash the brush once you finish painting and do not expose the Paint Roller under the sun or do not clean it for a long time, which will make the plastic brush brittle easily.
Adding product to your cart